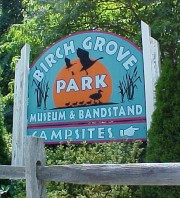 Atlantic City Area
Ocean City Area
Over 50 Campsites
271 Acres
Only 15 Minutes from
Area Beaches, Malls & Casinos
Directions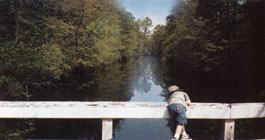 Your Gateway to the Shore
1675 Burton Avenue
Northfield, New Jersey 08225
OPEN APRIL 1st
THROUGH
END OF SEPTEMBER, ANNUALLY
CALL (609) 641-3778
Tent Sites
Picnic Areas
Fishing Tournaments
Playground
Nature, Exercise & Jogging Trails
Museum & Historical House on Site
Evening Concerts at Park Bandstand
Our location will delight you with its tranquil vistas & wooded sites.
Dogs limited to trailers only. Tent campers are not permitted to have dogs.
The greater Atlantic city Area is home to 23 golf courses and minor league baseball & basketball teams. Museums , historical sites, seaports and cultural events abound. For the salt water enthusiasts, the beaches, boat & jet-ski rentals, launch ramps and fishing & crabbing piers are just minutes away. Birch Grove Park has over 50 campsites nestled in 271 heavily wooded acres dotted with stocked fresh water fishing lakes. From the world famous Atlantic City Boardwalk & Casinos to the Pinelands National Preserve, make this an exciting vacation for the entire family. Take advantage of all the Jersey Shore has to offer by making affordable Birch Grove Park & Family Campground your "Gateway to the Shore."
AC Expressway: Take Exit 7S, Parkway South to Exit 36, bear right onto Tilton Road, make first right onto Fire Road. At the 3rd traffic light make a left onto Mill Road, follow Mill to Burton Avenue. Bear left, Birch Grove is on the left.
Parkway South: Take exit 36 & follow above. Call for directions if needed: (609) 641-3778.
---
Rates
CAMPSITE RATES NOT TO EXCEED 8 PEOPLE PER SITE
NO HOOK-UP
ELECTRIC & WATER
ELECTRIC, WATER & SEWER
1 DAY
$25.00
1 DAY
$30.00
1 DAY
$35.00
2 DAYS
$50.00
2 DAYS
$60.00
2 DAYS
$70.00
3 DAYS
$75.00
3 DAYS
$90.00
3 DAYS
$105.00
4 DAYS
$100.00
4 DAYS
$120.00
4 DAYS
$140.00
5 DAYS
$125.00
5 DAYS
$150.00
5 DAYS
$175.00
6 DAYS
$150.00
6 DAYS
$180.00
6 DAYS
$210.00
7 DAYS
$175.00
7 DAYS
$210.00
7 DAYS
$245.00
WEEKLY
$175.00
WEEKLY
$200.00
WEEKLY
$225.00
MONTHLY
None
MONTHLY
$695.00
MONTHLY
$850.00
SEASONAL
$2,300.00
SEASONAL
$2,600.00
SPECIAL EVENT RATE SCHEDULE FOR CAMPING
Contact the Park Staff at 609-641-3778 for Special Event Dates
NO HOOK-UP
ELECTRIC & WATER
ELECTRIC, WATER & SEWER
1 DAY
$ 70.00
1 DAY
$ 75.00
1 DAY
$ 75.00
2 DAYS
$ 140.00
2 DAYS
$ 150.00
2 DAYS
$ 150.00
3 DAYS
$ 210.00
3 DAYS
$ 225.00
3 DAYS
$ 225.00
NOTE – Campsites are limited to 8 people per site. Seasonal will be limited to Trailers only. Tents will be limited to one (1) week only. Dogs are limited to Trailers; tent campers are not permitted to have dogs. No more than 2 tents per site. Must be 21 years of age to register.
RENTALS
Picnic Tables - $1.00 per person, no fee to Northfield residents.
Grills - $7.00 per grill for all users
---
Frequently Asked Questions (FAQs)
Birch Grove Park
What are the hours of operation for the park?
Hours vary based on the season, and are subject to change based on weather conditions. The park is open 7 days weekly, year round, with the exception of Christmas Day when we are closed.

Current Park hours are 9am-7pm;
Snack Bar hours Mondays and Tuesdays 9am-3pm, Wednesday through Sunday 11am - 5pm.

Generally, hours of operation are as follows:
November – 1st week of April 9:00am to 4:30pm.
2nd week of April through Memorial Day 9:00am to 6:00pm
Memorial Day through August 9:00am to 7:00pm
September 9:00am to 6:00pm
October 9:00am to 5:00pm

For hours of operation on specific dates, please refer to the Main page for Birch Grove Park, in the announcements section, or contact the park directly at 609-641-3778. Current hours of operation are always listed on the park's answering system.

When is camping allowed?
The park is open to campers from April through September each year, but reservations are taken year-round. Campers may register between 11:00am and 3:00pm, seven days weekly at the park snack bar.

Can I bring my boat to Birch Grove Park?
Boats are not permitted at the park.

Is swimming allowed in the lakes at the park?
No swimming is permitted.
Can I bring my dog or cat?
Pets are not permitted at the park. Service animals related to a person's disability are always welcome.
Can I feed the wild animals at the park?
No feeding of wild animals is permitted, including ducks and geese.
Is a license required to fish in the park?
Anyone age 16 and older must have a valid license (see Exceptions) to fish the fresh waters of New Jersey with handline, rod and line, or longbow and arrow.


Exceptions:
Anglers Under 16 - No fishing license is required of persons under 16 years old.
NJ Residents Age 70 and Over - A driver's license or other acceptable proof of age containing date of birth and physical description will function as the actual fishing license for New Jersey residents 70 and over. No application fee is required, no registration with the Division of Fish and Wildlife is required and no license will be issued. Trout stamps are not required

How much is a license?
License and stamp fees vary


How do I purchase a license?
You may purchase a license on line (see below), by telephone at (888) 773-8450, or at most sporting goods stores.


Are the park lakes stocked with fish?
Yes, in November and March each year. A free freshwater fishing digest is available at the snack bar.
Is the public allowed to use the grills in the picnic area of the park?
Yes, fee is $7 per grill and is paid in the park snack bar. Grill fee must be paid before grills are used.


Is charcoal available for purchase, or do I have to bring my own?
At this time, grilling supplies are not available for purchase.
How far is Birch Grove Park campground from points of interest, such as Atlantic City and Ocean city?
Atlantic City is just over 7 miles away, a mere 15 minute car ride!

Ocean City and its famous boardwalk, is a wee bit farther, clocking in at 18 minutes and an 8 mile ride.