Serving the Needs of City Residents, Businesses and Visitors.
1600 Shore Road
Northfield
New Jersey
08225
United States
+1 (609) 641-2832
+1 (609) 646-7175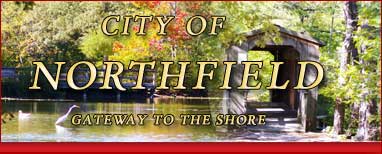 Northfield Forms
News
Road Work - Walnut and Cresson
Milling and paving will begin Monday, July 15th in the area of Walnut Avenue from Route 9 to Cresson More...
Warning: Telemarketing Scam - Social Security
Please see the attached letter from County Executive Dennis Levinson regarding a telemarketing scam More...
MAYOR CHAU'S ANNUAL RECYCLING CART CONTEST CONTINUES
In order to promote and encourage residential recycling in the City of Northfield, Mayor Chau has on More...