Serving the Needs of City Residents, Businesses and Visitors.
1600 Shore Road
Northfield
New Jersey
08225
United States
+1 (609) 641-2832
+1 (609) 646-7175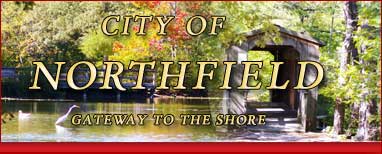 Northfield Forms
News
ACUA - COLLECTIONS SUSPENDED DUE TO WEATHER
Collections for Wednesday, March 21, have been cancelled. Wednesday's trash and recyclables will be More...
Annual Fishing Tournament - Birch Grove Park
Birch Grove Park - Season Opener
Saturday, April 14, 2018
Youth 5-15, Veterans, Children wit More...
EASTER EGG HUNT AT BIRCH GROVE PARK
The City of Northfield, in partnership with the Northfield Mothers' League and the Friends of the Ot More...