Serving the Needs of City Residents, Businesses and Visitors.
1600 Shore Road
Northfield
New Jersey
08225
United States
+1 (609) 641-2832
+1 (609) 646-7175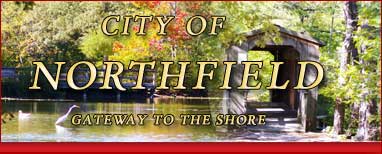 Northfield Forms
News
SNOW RELATED PARKING RESTRICTIONS
DID YOU KNOW?

When City of Northfield roads are covered with snow, that special parking rul More...
METAL COLLECTION SCHEDULE - CHANGE IN DATES
As of January 1, 2018, the City of Northfield Public Works Department will collect metal on the 1st More...
NORTHFIELD - YARD WASTE WINTER COLLECTION SCHEDULE
As of November 27th, YARD WASTE collection will move to our winter collection schedule, and will be More...