Serving the Needs of City Residents, Businesses and Visitors.
1600 Shore Road
Northfield
New Jersey
08225
United States
+1 (609) 641-2832
+1 (609) 646-7175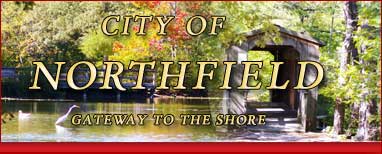 Northfield Forms
News
NORTHFIELD SEEKS APPLICANTS FOR MUNICIPAL JUDGE APPOINTMENT
The Mayor of the City of Northfield is accepting letters of interest and resumes for consideration f More...
Now Hiring - Substitute Crossing Guards
The Northfield Police Department is currently hiring substitute School Crossing Guards. Please inqu More...
FAMILY FRIENDLY HAYRIDES AT BIRCH GROVE PARK
For Halloween fun, bring the family together and come to Birch Grove to enjoy the fall weather. Perf More...