Serving the Needs of City Residents, Businesses and Visitors.
1600 Shore Road
Northfield
New Jersey
08225
United States
+1 (609) 641-2832
+1 (609) 646-7175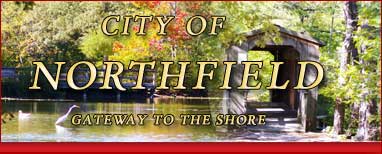 Northfield City Links
News
HOUSEHOLD RENOVATION DEBRIS COLLECTION
Using grant funding provided through the NJ Clean Communities Entitlement Program, the City of North More...
SPRING STREET SWEEPING
The City of Northfield will be conducting street-sweeping services from April 24th through May 5th. More...
METAL COLLECTION SCHEDULE - CHANGE IN DATES
As of January 1, 2018, the City of Northfield Public Works Department will collect metal on the 1st More...