Serving the Needs of City Residents, Businesses and Visitors.
1600 Shore Road
Northfield
New Jersey
08225
United States
+1 (609) 641-2832
+1 (609) 646-7175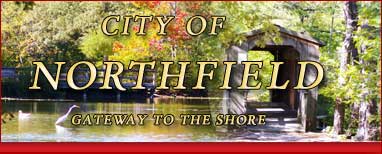 Northfield City Government
News
Recycle Cart Contest
It's that time of year again for Mayor Chau's Summer Recycling Cart Contest. Please see rules and r More...
CITY OF NORTHFIELD MIDPOINT REVIEW REPORT
NOTICE is hereby given that the City of Northfield, pursuant to N.J.S.A. 52:27D-313, has, as of July More...
CRESSON HILL AFFORDABLE HOUSING
Please see attached for information on upcoming rental opportunity for affordable housing in the Cit More...
Events