The Northfield Historical Society was founded in 1997 by a group of former and current residents whose mutual desire was to obtain artifacts and information about the city and to preserve them for future generations.
The Society accomplishes this goal by supporting the Casto House and the Northfield Museum which are located in Birch Grove Park. Funds are raised through donations and fees at the twice-annual Antiques Appraisal Program. Additional funding is received through local interest programs such as that presented by Allen "Boo" Pergament on Atlantic City history.
Such programs are presented to the public without charge. Members continue to add to our obituary file which was begun years ago by the late Edna Ryon Collins.
Annual membership fees are $10.00 per person. lifetime memberships are available for $100.00 per person or $150.00 per couple. All members receive newsletters 3 or 4 times per year.
Historical Risley Homestead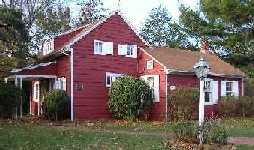 Northfield's own authentic circa 1790 cottage. The Risley Homestead is located at 8 Virginia Avenue in Northfield, it was built as a simple two-room farmhouse by Jeremiah Risley II or Edward Risley, ancestors of Virginia Risley Stout. Additions made in 1930's and 1940's. Only two homes in Atlantic County have been nominated for Historic Places, Somers Mansion in 1970 and Risley Homestead in 1990. For more information about touring the Risley Homestead, please click here to visit The Atlantic Heritage Center website.