Serving the Needs of City Residents, Businesses and Visitors.
1600 Shore Road
Northfield
New Jersey
08225
United States
+1 (609) 641-2832
+1 (609) 646-7175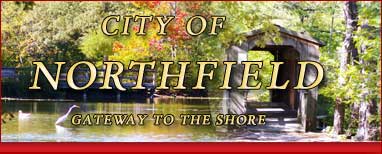 Northfield City Government
News
EMPLOYMENT OPPORTUNITY - PART TIME
City of Northfield is seeking a part time Housing Inspection Officer. Duties include administration More...
VOLUNTEER OPPORTUNITY - MAINLAND COMMUNITY EMERGENCY RESPONSE TEAM
Are you looking for a way to help your community, but don't know where to start? The Community Emer More...
WEST NILE VIRUS FOUND IN BIRCH GROVE PARK MOSQUITO SAMPLE
West Nile virus has been found in a mosquito sample collected from Birch Grove Park in Northfield. T More...
Events