Serving the Needs of City Residents, Businesses and Visitors.
1600 Shore Road
Northfield
New Jersey
08225
United States
+1 (609) 641-2832
+1 (609) 646-7175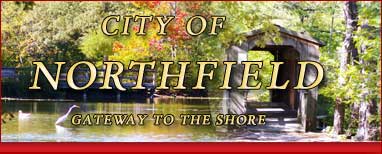 Northfield City Government
News
Spring Household Renovation Materials
Using grant funding provided through the NJ Clean Communities Entitlement Program, the City of North More...
Vacancy - Library Board of Trustees
There is presently a vacancy on the Library Board of Trustees for the Otto Bruyns Public Library of More...
Spring Street Sweeping 2023
ATTENTION: CITY OF NORTHFIELD RESIDENTS SPRING 2023 STREET SWEEPING SCHEDULE

The City of No More...
Events